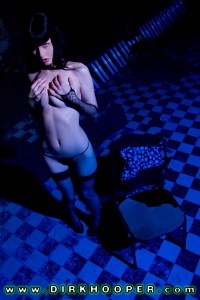 Founders Dirk Hooper and Robert Henry, and the Toxic Goddess models and are involved in an art and promotion venture that is an exciting opportunity for alternative, gothic, rockabilly and fetish models out there.
Toxic Goddess is unique, not just because you work with two of the finest photographers in the business, but because models are involved in the decisions and are partners. Only the best models will be considered for this project, but everyone is welcome to submit their application.
Everyone wants to be a Toxic Goddess, but let's be honest, we have the luxury of being exceptionally selective with who we work with. You have to knock our socks off, from the first application, to the first shoot, to all subsequent meetings. It's not enough to be a great model, you have to be someone who is motivated and brings her "A" game every time out. We are bringing you in as a business decision. Anything less than excellent will not be enough. Then again, the potential rewards are great.
You must either live in, or travel to Oklahoma regularly for this project, posing nude is required (no exceptions), and you must possess a great professional attitude.
For more information in general, please visit my Model Search Page.
[info_box]Fill Out the Toxic Goddess Online Model Application By Clicking Here.
The link above will take you to a page where you can answer some questions and upload photos.  Please read this page before submitting your application. Thanks for your interest![/info_box]