KinkInk Original BDSM, Fetish, and Kinky Art by Fetish Artist Dirk Hooper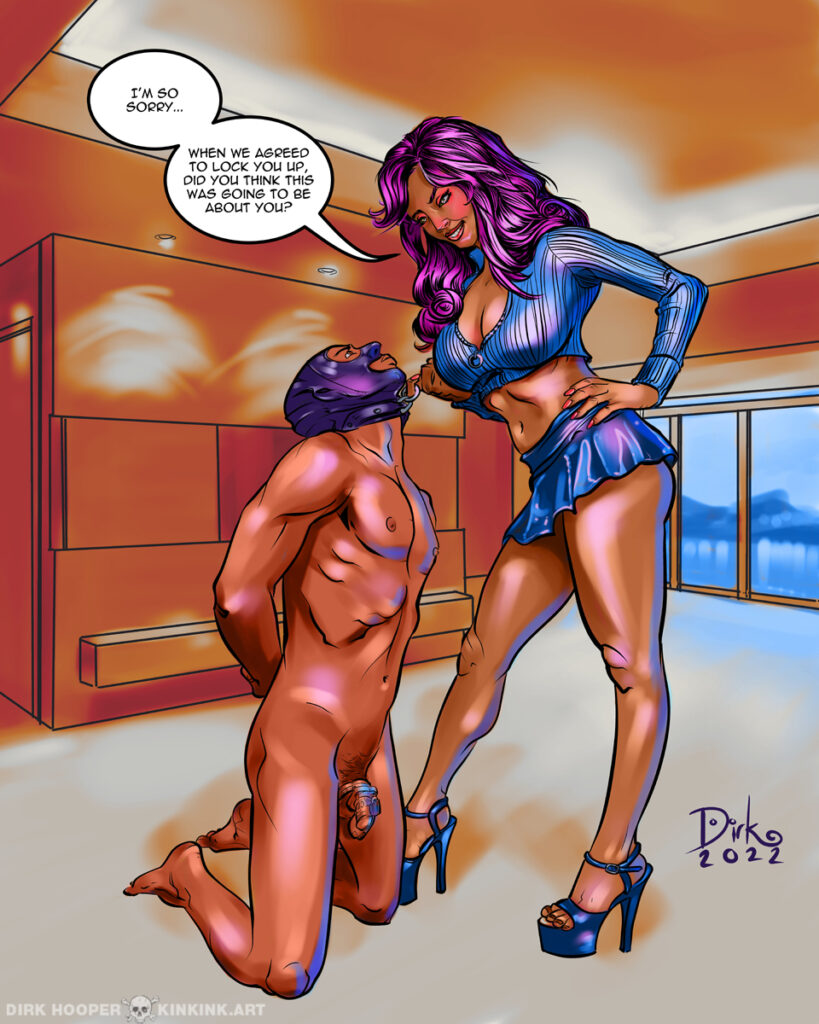 Over the past few years I've been steadily working toward a new style that was dynamic, expressive, erotic, and something that focused on type of work that I enjoy the most.
It's been a long journey, but I'm happy to finally present my KinkInk artwork!
The concept behind this work is to do pieces that are about BDSM relationships, kinks, fetishes, and some people that inspire me.
I also want to present work that it's colorful, and engaging. Obviously, this work is meant for people in the BDSM community– a community that I know and love and have been a part of for the past 20 years. However, I would also like to reach out to people who are outside of the kink community, and maybe encourage them to learn more about a world that has brought so much pleasure, happiness, and enlightenment to me.
Archival Prints

I am now offering archival prints through an excellent service that meets every standard that I have for my artwork. This is exceptionally high quality prints that you can collect and proudly display on your wall.
You can see my print gallery here: https://www.inprnt.com/profile/dirkhooper/
Do you have a request, or a favorite piece you'd like to see on a print? Contact me here.
Greetings Cards, T-Shirts, Mugs, Etc.

If you really like these pieces, some are available on t-shirts, hoodies, pillows, sheets, mugs and so much more at:
https://www.redbubble.com/people/dirkhooper
If you don't see something offered and you're interested, contact me and I'll put it up there. (If I can… some explicit stuff is not allowed, and I'm looking at alternatives for that work.)
Custom Commissioned Artwork

If you like how I approach kink, fetish, and BDSM subjects, or you just like my style, I can do custom artwork for you at very reasonable prices.
More information on how you can commission your own custom piece of art by me here: 
Commission Original Kink and Fetish Artwork by Dirk Hooper
More Explicit Work
My most explicit artwork is not here. 
I wanted a place where I could do more explicit kinky art and writing and find support for creating more of that work so I created a Patreon account.
If you enjoy my work, and you'd like to see more of it, or you're one of my supporters and would like to help out, or you just like the idea of helping an independent artist and writer pursue his dreams, this is your chance to make a big difference with a low monthly subscription, AND make more kinky work possible!
Click here for my Patreon account:
https://www.patreon.com/DirkHooper
The Art Gallery
Please click on the thumbnails below to see the full-size high resolution images.
You can also view the images as a slide show by clicking on them.
I'll be updating this gallery, so check back often to see what I've been up to!