I'm an award-winning, internationally-published and exhibited professional photographer with over 20 years of experience.
I specialize in photos of professional dominatrix, fetish and glamour models, but I've also shot private photography sets for couples, commercial projects, events, and for publication.
Visit my Professional Photography Page to book a shoot with me today.
My blog page has been a source for fetish news, reviews, BDSM opinion, kinky press releases, and all the updates on my photography, artwork, and projects that you would imagine.
I'll be adding even more content in the next few months. You'll be seeing at least one new podcast, many new features, and a few surprises.
One of the great things about this new site is that I'm going to finally be able to present my photography AND my artwork in a way that I've never been able to before.
I've been doing artwork since I was a little kid, and I've been doing photography professionally for over 20 years. My new Gallery Page is going to be the place where I share my favorite work with you.
Please drop by my Gallery Page. I promise you'll see something you like.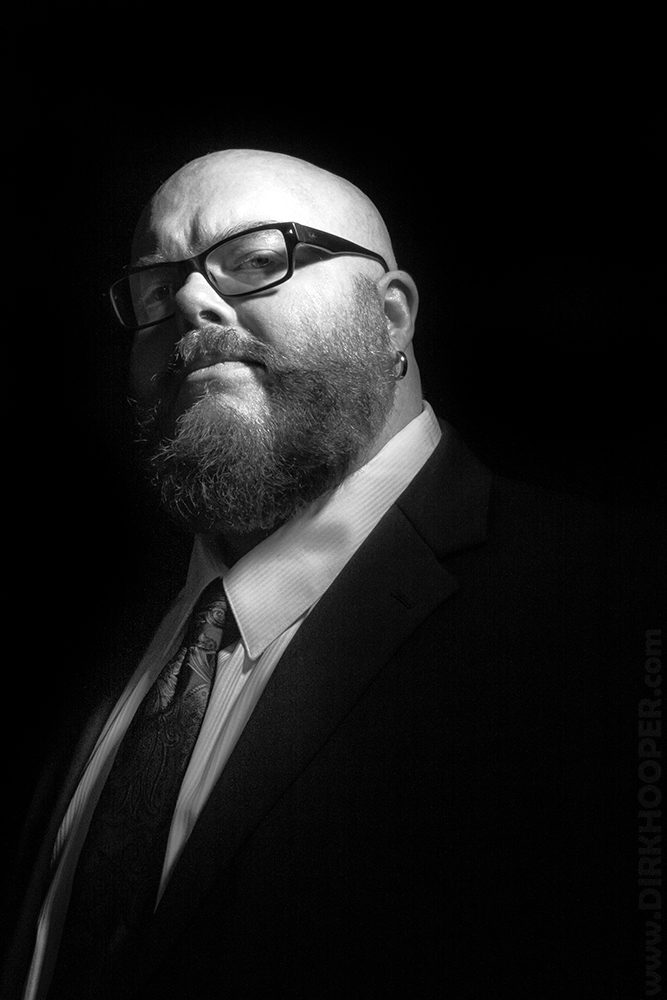 Hello, my name is Dirk Hooper.
I'm mostly known as a fine-art fetish photographer and I've been doing that for twenty years now.
This year, and also in 2017, I won Best Fetish Photographer at the Fetish Awards in St. Petersburg, Florida. My career in fine-art fetish photography has led me to galleries around the world including England, Belgium, the Netherlands, China and across the United States. I have work in the permanent collection of the Kinsey Institute at Indiana University and the Leather Archives and Museum in Chicago.
I also do professional photography. I was published in the German art book "Fetish Fantasies: The World's Best Fetish Photography." My fetish and glamour photos have been seen in magazines like Skin Two, Von Gutenberg, Sinical, and Fet Erotica. I have done professional photography for bands, books, posters and the adult film industry. I offer my services for personal portrait photography and for commercial projects.
This site was launched in 2001 and created to feature photos of fetish models, dominatrix, bondage models and other various art projects. I do journalism for the BDSM and fetish communities through my FETISHWEEK articles on this site, my daily Fetish Chronicle, and various sites. I aggregate, curate, report and comment on a large volume of information every day.
My creative work and journalism for the kink community is an extension of my own personal experiences. I am a BDSM mentor and have helped guide or train both dominants and submissives.
Thank you for reading through all of this! If you're looking for where to go next I encourage you to visit my online galleries. Updates to my blog are in the posts below and include FETISHWEEK, complete photo sets, reviews, articles and videos. If you are looking for a photographer I offer my services through my section titled Book A Shoot.
I'm always looking for new books and BDSM toys to review. If you have news or interesting information that you think I should share I can help you reach a wider audience. I am also actively seeking new models for a number of photography projects that I'm working on. If you would like to model for me visit my model search page.
Finally, I really enjoy making new connections, collaborating with other people or just hearing from people who have comments about my work. Please contact me directly at:
Fetish News, Photoshoots, Podcasts, & More Blog Posts