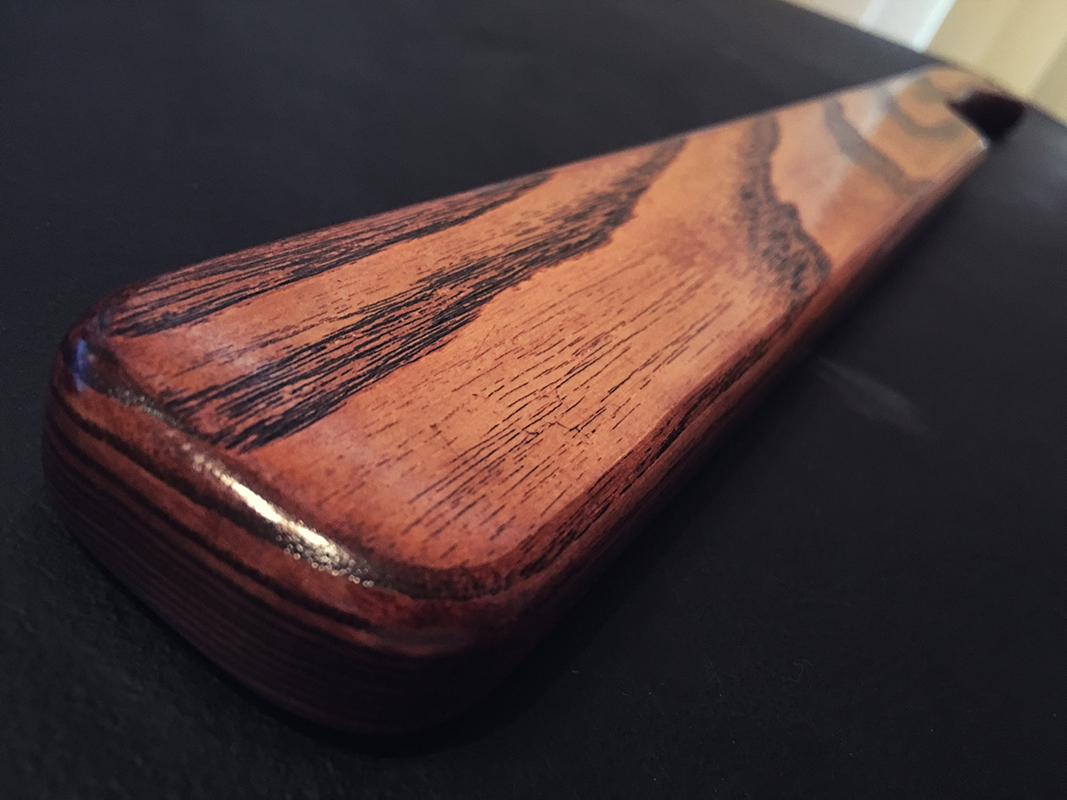 BDSM Toy Review: Wooden Paddle by Devilish Designs | Dirk Hooper Fetish Photography
I've been in the BDSM community for over 20 years now, and I've got more than a few toy bags filled with goodies that I've collected here and there.
I think like most people I started out by going to a local sex shop and getting some cheap mass-produced items to use. What I learned quickly is that those items are abysmal to use, they are often unsafe, and they break easily.
The toys I enjoy the most, without fail, are the hand-crafted items that I've bought at events or through the internet. I have a beautiful suede flogger that was custom-made for me about fifteen years ago that continues to be one of favorite toys.
Good shit… handmade shit… lasts! And the quality speaks for itself.
What that brings me to is a paddle that The Baron, from Devilish Designs, sent me to review.
Before The Baron sent me this paddle he asked if I liked "stingy" or "thuddy" more. I tend to use both, depending on who I'm using toys on, but I really like a thuddy paddle. What he sent me was a little of both.
Custom Paddles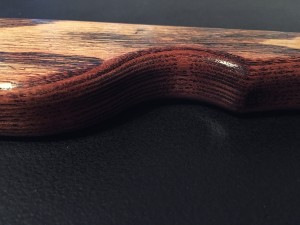 The thing you need to know, first and foremost, is that The Baron puts a lot of love and care into his work. Just check through his Ebay shop and you'll see various designs with different colors and various woods. Some are thuddy. Some are stingy. Some of his items are experimental. But all of them are custom-made and every damn one is unique.
If you order something from Devilish Designs, you're going to get a one-of-a-kind item.
This Devilish Designs Paddle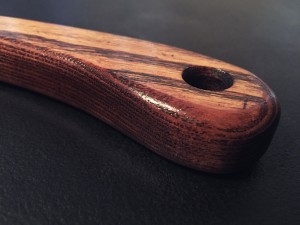 The paddle you see in the photos here is 21" long and ¾" thick. The wood grain and finishing is gorgeous. It's expertly refined, smooth… and deadly.
The feel of this paddle in your hands is simply described as thrilling. It's solid. You know it's built to last.
I tried it out on myself, and on a partner and I can tell you that it works as advertised. It's got a nice sting to it, but because of the thickness it has some thud too. It's fun to use. My partner enjoyed having it used on her, and I enjoyed playing with it.
I could use it for some blunt force, or whale on it to get the maximum effect. It's well-balanced, and the perfect size.
Conclusions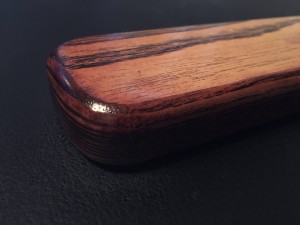 This paddle is well-crafted and effective. It's also unique, which I like a lot and I appreciate now more than ever. It's also a pretty pony, that I will be happy to drag out of my bag and show off to others for years to come.
Mostly though, I take pride in having a piece that was created by someone who is a member of the BDSM community and wants to create quality work for all of us.
---
Please visit The Baron's Devilish Design boutique at Ebay: http://ebay.com/sch/blackleaf7/m.html
You can find him on Twitter here (we talk a lot): http://twitter.com/derbaron76
And on FetLife here: https://fetlife.com/users/5216640
A great profile on The Baron was recently published. Check it out here: https://www.kinkycamdom.com/devilish-design-online-artisan-paddle-boutique/
Tell him Dirk sent you!
If you're interested in having me review your custom-made BDSM toys, or something else, please visit my Review Page for more information.