FETISHWEEK – Skin Two Magazine's Tim Woodward
Dirk Hooper's FETISHWEEK
February 19-25, 2012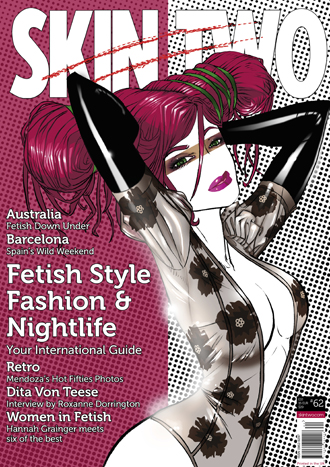 The lead story this week is totally self-serving… but it's for a good cause!  We have recently upgraded the sound quality of our broadcasts and added a bunch of new bumpers on The Fetish Show.  If you've been curious about the show, now is a good time to check out what we do.
However, the big news on episode 27 is an interview with a fetish hero of mine named Tim Woodward, who founded Skin Two Magazine back in 1983.  If you're not familiar with Skin Two Magazine (or the number of other projects under the Skin Two banner), do yourself a favor and drop by their site at http://www.skintwo.com.
Besides just being a cool man and a fascinating interview, Tim Woodward laid the foundation for a lot of the interest and fascination with the world of fetish, BDSM, leather, latex, dominatrix and all the wonderful stuff I cover here and on The Fetish Show.
Check out the link to the show on the Feature Story below and tell me what you think.
You can leave me a comment below or email me at: dirk@dirkhooper.com
[highlight]Feature Story[/highlight]
The Fetish Show 27 – Skin Two Founder Tim Woodward http://bit.ly/yv8Nfp
[highlight]News[/highlight]
Cops Bust Cop in Nude BDSM Club Raid http://bit.ly/xr9tIk
Taryn Thomas: Arizona Could Be Next Stop for Porn Shoots – XBIZ Newswire http://bit.ly/zaFhlB
FriendFinder Says It's at Forefront of Growing Dating Biz http://bit.ly/yfgU6D
The Year of Rope Bondage http://bit.ly/wVwM12
Daughter spots swinging parents on TV http://bit.ly/AgA4eZ
AVN – MOMENTUM Conference in DC will Make Waves in Sexuality http://bit.ly/yfyYpP
Nice Girl Works Her Way Through High Priced College Doing Fetish Porn http://bit.ly/zCMesU
Model Natalia Paris begs like a dog for animal rights (video) Reports http://bit.ly/yRTuPz
MetArt Taps Model Kayla Jane to Head Talent, Casting Operations – XBIZ Newswire http://bit.ly/xQ9CxP
Whipping Up A Frenzy http://bit.ly/whHT96
The Baseball Scout And His Sex Slave: A Baseball Love Story http://bit.ly/xfJYvL
Brits import most bondage gear | The Sun |News http://bit.ly/x2jFQm
Arizona Bill Would Expose Airbrushed Ads http://t.co/wtiHqvzw
[highlight]Articles[/highlight]
Expectations in BDSM http://bit.ly/zbEHYu
Old Is the New Black; BDSM, the New Gay – The Huffington Post http://ow.ly/9ht1Z
NSFW Lesbosexy Sunday Wants You to Read a F*cking Book about BDSM: The Ultimate Guide http://bit.ly/zGLYdL
A Frank Discussion of Power Exchange – Black star.http://bit.ly/Atyj9M
defective ginger http://bit.ly/xXgRn5
WWE's Phoenix rises as role model for women with Pin-Up Strong – Wrestling – http://MiamiHerald.com http://bit.ly/xbf0bu
The Gorean Choice by Arien Adora | The Fetish Show http://bit.ly/AxC6Ql
10 weirdest celebrity health fetishes – Yahoo! Lifestyle http://yhoo.it/wEIi46 Clear misuse of the word "fetish", but interesting.
On Punishments http://bit.ly/xz9bgf
Sex & Pancakes – Mild Kink http://bit.ly/yX9tlU #sex Alas… not about sex With pancakes!
[highlight]Entertainment[/highlight]
The Fetish Show 26 – Brand Spanking New! http://bit.ly/ynneFY
ARTS GALLERY: LUCHA VAVOOM – VALENTINE'S 2012 |http://buzzinearts.com http://bit.ly/ApDxj0
Angie Pontani, Jo Weldon and Jonny Porkpie to Launch THE NAKED TRUTH Burlesque Game Show, 3/17 http://bit.ly/xJiKPT
AVN – CineKink Announces Winners of 9th Annual Kinky Film Fest http://bit.ly/xKPjQC
London Cabaret Awards 2012 Winners Announced on Spoonfed http://bit.ly/zMLWzU
Heavy Rubber No. 30 http://bit.ly/z4c9jG
[highlight]Art and Fashion[/highlight]
A Collaboration Between Spanish Painter Alberto Mielgo and Belladonna (*NSFW) http://bit.ly/zwjFEj
The Honesty of Exploitation: Sex in the Art of Milo Manara [Sex] – ComicsAlliance http://aol.it/wjWnmz
The Amazing Steampunk Art of Almacan | NewEvolutionhttp://bit.ly/xdogwc
Amandalynn's Vixens http://bit.ly/xACP2b
Steampunk Iron Man | Walyou http://bit.ly/x5ybxS
Steampunk and bondage and old Hollywood, oh my! http://bit.ly/zycBgU
Kate Middleton Commissions Lady Gaga Milliner For Jubilee Hat – ArtLyst http://bit.ly/w53HSr
SEEING RED http://bit.ly/x7AWey
Sexy Shapewear http://bit.ly/yTZ8Ck
Fetish Art: Viva Van Story, Photographer | The Fetish Show http://bit.ly/zrop3Z
[highlight]Events[/highlight]
Explore your wild side at KinkForAllDenver today at Auraria Campus – Denver Arts http://bit.ly/wAzan3 
London Fetish Fair http://bit.ly/vZXNlv A monthly kink event. 
Club Breath – Los Angeles Dominatrix | Ms. Justine Cross http://bit.ly/z5lQbu 
The Pink Room Presents LOST HIGHWAY BURLESQUE, 2/21 http://bit.ly/z3hDMg 
Ireland's first sex festival promises 'Sex Playshops' http://bit.ly/zHIqIQ
World Burlesque Games 2012 – Visit London http://bit.ly/x2bMl6
[highlight]Photos and Videos of the Week[/highlight]
Video: Gote Shibari Instruction | The Fetish Show http://bit.ly/yjYzMH
Katie O. by Dynamite Dames with MUA by Vintage Flair http://bit.ly/xzEKAm
Faceless Objectification http://bit.ly/yMWjCs
Susan Wayland – BIZARRE-BUZZ : KINKY – FETISH & BDSM http://bit.ly/At75nb
Bizarre Violet – BIZARRE-BUZZ : KINKY – FETISH & BDSM http://bit.ly/zZsIkZ
Kelly Brook in Leather Catsuit for Heavy Metal — LatexGirlsHD http://bit.ly/wlvpPb
So Good for Bunnies: Katy Perry Latex Costume for Grammy 2012 Performance! http://bit.ly/yJJIlx
Kate Moss as Latex Rubber Nun — LatexGirlsHD http://bit.ly/xT6r2Y
Strawberry Venom – Hot New Fetish Model http://bit.ly/x7HmlE
Christina Hendricks in Leather & Heels http://bit.ly/xcawo6
[info_box]Dirk Hooper is a fine-art fetish photographer, host of The Fetish Show radio program, BDSM mentor, FETISHWEEK editor and personal brand czar.[/info_box]