August 12, 2012

Dirk Hooper

24
My roles as the host of The Fetish Show, as a BDSM mentor and as a journalist for the BDSM community mean that I get approached frequently to ask what books I would recommend to someone who is new to the community.  The last two decades I've suggested the same books over and over again.
However, there is a new generation of books that look at the scene with a fresh eye and offer a new perspective.  I am adding the book "How to be Kinkier" to my list of suggested books.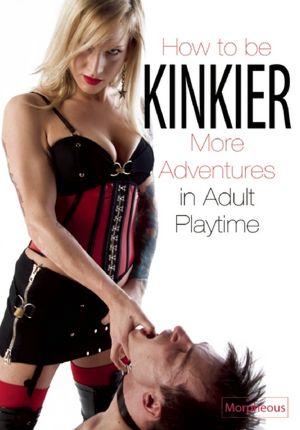 Design
"How to be Kinkier: More Adventures in Adult Playtime" by Morpheous stands out for a number of reasons, but at first sight it features great color photos and quality graphic design.  If you're looking for a book that's inviting and hard to put down "How to be Kinkier" is engaging.
I really enjoyed the frequent sidebar tips throughout the book.  Even if you're experienced in the scene I can promise that you'll discover some new ideas.  The step-by-step photo essays are excellent too.  All of these elements lead to an engaging read.  Some of those classic BDSM books are ponderous.  You won't have that problem with "Kinkier."
Photography
Morpheous does both the writing and photography chores on "How to be Kinkier".  I've never seen a kink instruction book with photos as good as this.  The photography is slick and inspirational.  The models are diverse and attractive.  If this were just a book of kinky photos it would be worth recommending.
The Topics
I certainly don't want you to think this book is just about photos and design though.  There is solid advice and there's a lot of material to consume here (320 pages worth).  As a sequel to the book "How to be Kinky: A Beginner's Guide to BDSM" this book explores the issues and challenges that a more seasoned player will encounter.
The highlights of the book are the subjects of advanced negotiation, polyamory, sex toys, plan a hens party here and general safety.  Information on some of these subjects is scarce or scattered around the internet.  "How to be Kinkier" gives these topics a long overdue discussion. While it's not comprehensive, the book covers them in a unique and informative way.
Advanced bondage, electrical play, BDSM relationships and becoming a fetish model are the types of subjects that could easily be the subject of their own book.  "How to be Kinkier" presents helpful advice and gives a good overview of the subjects.  Still, if you really want to know a lot about those subjects you're going to have to do more reading and look for a mentor (something that Morpheous also explains in the book).
Finally
"How to be Kinkier" is a fun and educational read.  If you're past all the basics and ready to dive deeper into BDSM this book is going to give you a lot of good ideas, answer many of your questions and open your mind to new possibilities.  Even if you are experienced in the scene there are some very creative tips and concepts here.  The photography and presentation are modern and inviting.  This is one of the best books I've read on the subject.  I wish it was around back when I picked up my first flogger.
"How to be Kinkier: More Adventures in Adult Playtime" by Morpheous is published by Green Candy Press and available online or at bookstores near you.