May 27, 2014

Dirk Hooper

6
"Strictly Bondage" is a journal-sized hardback photography book featuring work by Victor Lightworship.  The book is published by Goliath and they have taken great care to present the photos with beautiful design and with the attention to detail they deserve.  Besides an introduction by Cynthia Patterson, and a brief biography at the end of the book, the designers let the photos speak for themselves.
The world of "Strictly Bondage" is filled with gorgeous damsels, intricate rope bondage and a haunting male presence played by Lightworship.  These are erotic photos infused with BDSM overtones, and while there are some notable moments of humor, most of this collection has a dark theme.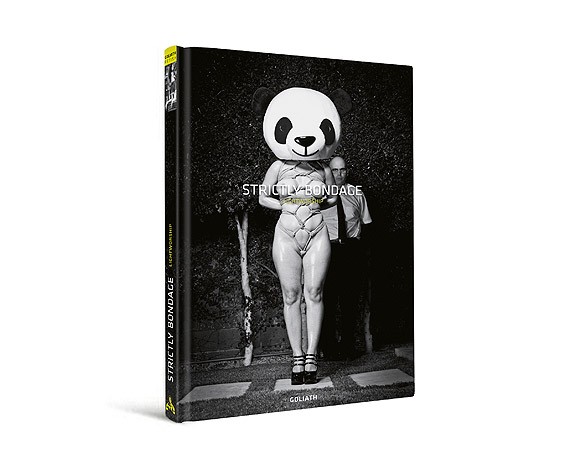 You can draw a direct line between Lightworship's photos and vintage pulp novel covers.  The women in these photos are in distress and the men are in charge.  There's a sequential nature to these photos, where you are given a cinematic scene and invited to fill-in the story before and after the shot.  Some photos catch the action just as flesh meets flesh.  Given the cinematic nature of these photos you could put Lightworship in the same category as artists like Gregory Crewdson.
It's so important to recognize the quality of Lightworship's photography.  His photos are exclusively black and white.  The tonal range in these photos go from deep black to brilliant white.  While so many photographers, particularly erotic and fetish photographers, overlight their work, Lightworship gives you mysterious shadows and uses light to create emphasis on his subjects.  The mood is thick.
According to Lightworship's site, www.lightworship.com, his love of black and white photography began over thirty years ago.  He built a basement darkroom with his father, who taught him how to process, shoot and print black and white film.  The foundation of this upbringing can clearly be seen in how he composes his work and in his use light.
Given the dearth of quality books dedicated to Japanese rope bondage, "Strictly Bondage" stands out as an example of how to respectfully present this genre of photography.  Whether you are a fan of fetish photography, Shibari or black and white photos, this book deserves to be in your collection.
"Strictly Bondage
" is available directly from the publisher at www.goliathbooks.com, through online retailers like Amazon.com or at a book store near you. Tell them Dirk Hooper sent you.
[info_box]If you would like Dirk Hooper to review your book, BDSM toy, or other items, contact him directly at: dirk@dirkhooper.com[/info_box]