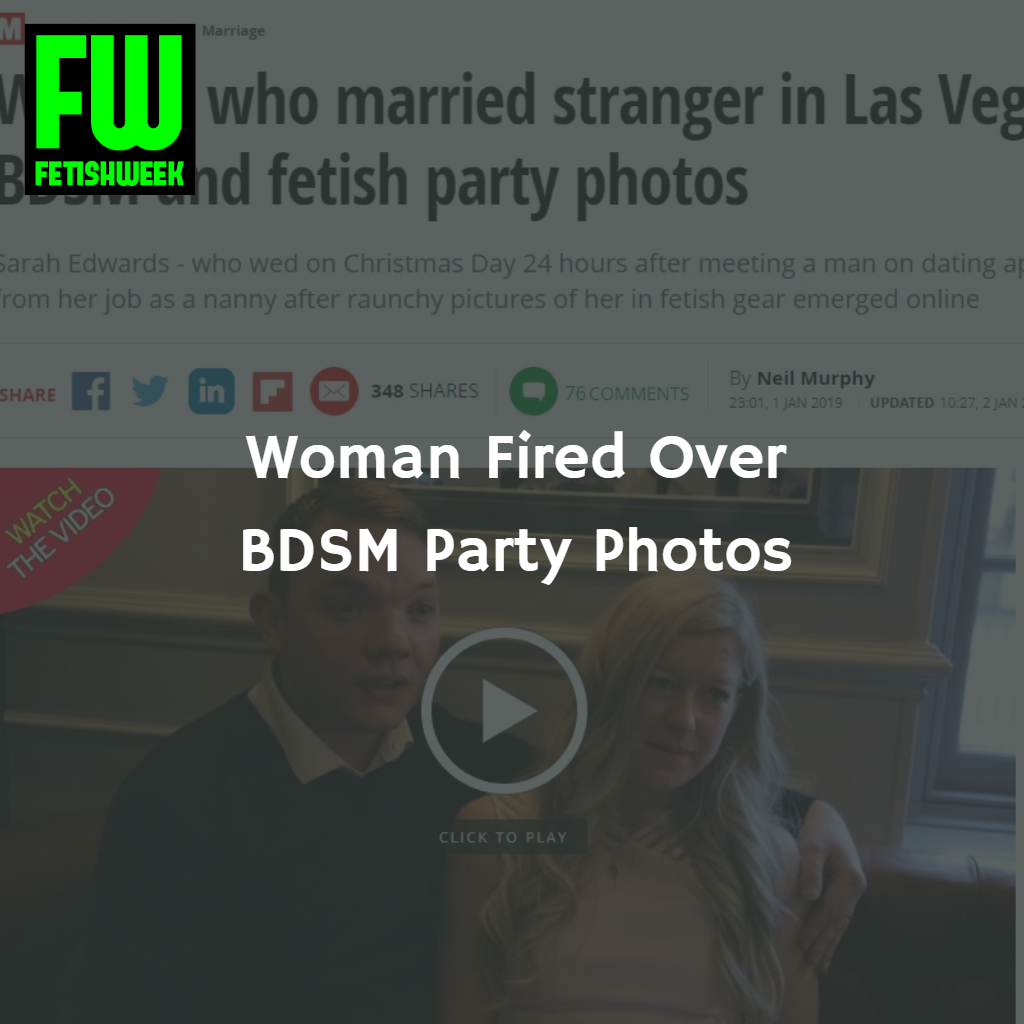 FETISHWEEK: The Fetish Report – January 15, 2019
Fetish, Kink, and BDSM in the News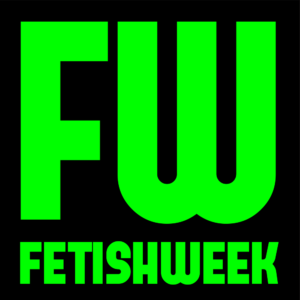 Woman Fired Over BDSM Party Photos
Last week, Sarah Edwards, who gained attention for meeting a man on the Bumble app and marrying him 24 hours after they met in Las Vegas, was fired from her job.
The reason she was fired is due to the Daily Mail discovering photos of her during a recent visit to the Torture Garden and publishing them online. A source close to her employer said, "Her boss didn't like the kind of attention she was getting and has decided it best she work elsewhere. She was looking for love, and was very lucky to find it, but now she'll be getting back online for a new job."
There are a few things to unpack here. The first thing to note is that being associated with kink, fetish, and BDSM can still get you fired from your job (among other things).
The second thing is that if you're involved in the kink community it's important to take a moment to assess how you approach your privacy. Your participation in play parties, relationships, photos, videos, and more can be used against you by your employer, your friends and family, and authorities.
I write more about how to protect your identity in the BDSM community in a recent post at Kink Weekly.
Finally, I want to say that the experience of Sarah Edwards is not typical in any way. She got attention because of the quick marriage she had, something that she probably sought out in the first place. But when she attracted media attention it didn't take long for them to uncover her secret life.
The point is that you have to be informed and you have to be careful, even after all the positive press kink and BDSM has received in the last few years.
What do you think? Tell me in the comments below.
https://www.mirror.co.uk/news/uk-news/woman-who-married-stranger-las-13801709
---
FETISHWEEK: Foot Fetish to the Rescue
This is the first of a new series of news, profile and entertainment videos that I'm sharing on YouTube. Please check out this episode and subscribe so you don't miss breaking news.
New Congresswoman Alexandria Ocasio-Cortez was saved from a malicious meme by an eagle-eyed foot fetishist on Reddit.
---
FETISHWEEK: Hunger Games Visits a Berlin Fetish Club
On The Late Show with Stephen Colbert, Hunger Games actor Josh Hutcherson talked about the time he went to the world famous fetish KitKatClub in Berlin with co-stars Jennifer Lawrence and Liam Hemsworth.

You can check out the world famous Berlin KitKatClub here: http://www.kitkatclub.org/Home/Index.html

---
Atlanta Photographer Forest McMullin
The article below highlights an interesting project from Atlanta photographer Forest McMullin.
McMullin described the origins of the project, "I read an article in a local weekly newspaper about a female professional over 30 years visiting Swingers clubs with her husband. There was a picture of her, and I was surprised how normal she looked. Since most of my career I shot a marginal social group, I soon started thinking about how to take pictures of men and women who go to (local dungeons)."
What's wonderful about these photos is that it graphically, and simply, demonstrates something that most of us in the BDSM community already know… most players are just as "normal" as the rest of the community. Yes, there are some who wave their freak flag proudly (and there's certainly nothing wrong with that, I do), but kinksters are largely comprised of people that look just like your neighbors.
Here is a link to a Huffington Post article with more photos. And here is a link to Forest McMullin's website. Below is the recent story about his work.
http://micetimes.asia/it-looks-like-fans-of-bdsm-in-everyday-life-photo/
---
Tumblr, Facebook and sexual content on the Internet
The post below contains a passionate and important discussion about the current climate of de-platforming, SESTA/FOSTA, and more (what I call the New Puritan Movement), and how it affects someone who shares BDSM content.
The post is on The History of BDSM from writer Peter Tupper and should be read by everyone. And while you're at it, subscribe to his email list so you can keep up with what he says next.
http://historyofbdsm.com/2018/12/tumblr-facebook-and-sexual-content-on-the-internet/
---
Reworking Trauma through BDSM
From the Women's, Gender, and Sexuality Studies Department at Macalester College comes a study about how some people use BDSM to deal with trauma.
This is exactly the sort of thing that helps to challenge the misinformation and bias that is usually prescribed to those who participate in BDSM. I've personally seen how healing BDSM can be.
This essay is another chip in the mountain of bad information that's out there.
https://www.journals.uchicago.edu/doi/abs/10.1086/699370?journalCode=signs
---
Mistress Eva on Instagram
Are you following Mistress Eva on Instagram? You should be! She's an accomplished, intelligent, and stunning representative of the community.
---
Dirk Hooper Posts, Podcasts, and Appearances
New Art
I've been busy with a lot of work over the stretch between Thanksgiving and New Year's Eve. I'm so busy that I haven't had a chance to post much of it.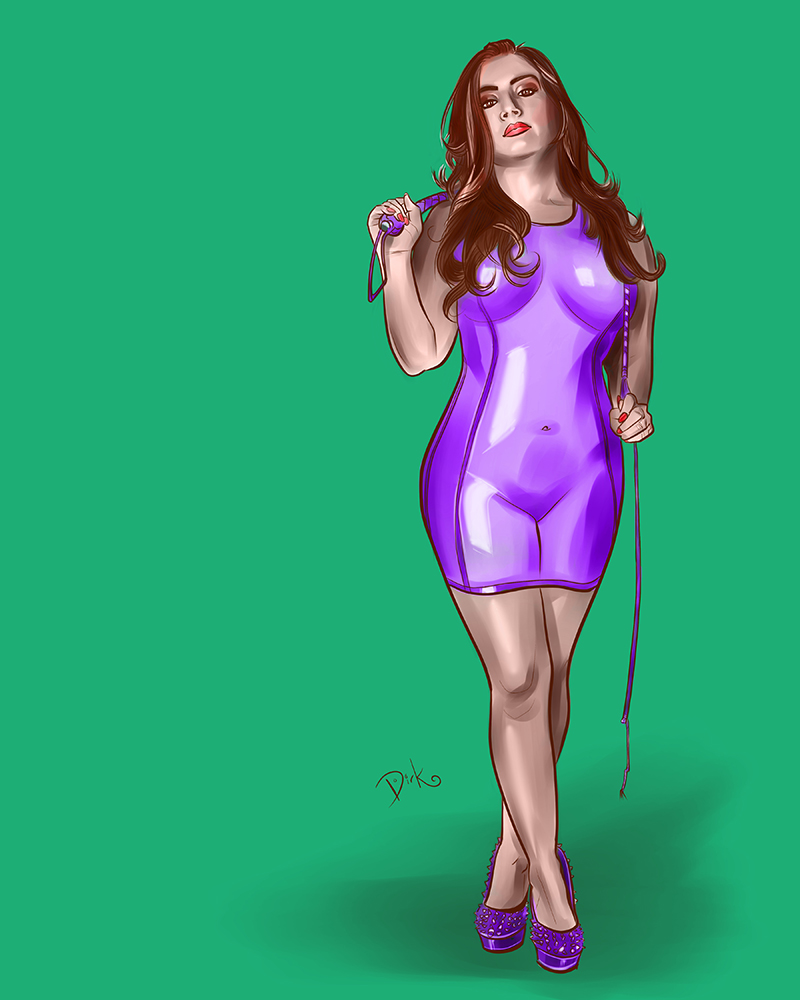 Here are a couple of recent pieces. I have much more to share soon! If you've been following my progression I feel like I've made a few major breakthroughs recently. I'm going to be doing some cool stuff this year!
If you're interested in commissioning some work from me, please visit my Commissioned Artwork Page.
---
Sexy Foot and Fetish Model Photoset
You can see the full uncensored shoot at the link below.
---
Fetish Fashion Photos with Couture Fantasy by Tatjana Warnecke
---
A Deeper BDSM Experience Awaits You, Outside Your Comfort Zone by Dirk Hooper
---
Ask Dirk!
I'm launching a new column right here on this site. It's called "Ask Dirk!" and it's just like "Dear Abby" for people who are kinky, into fetishes, or involved with the BDSM community.
Send me your BDSM relationship questions now to dirk@dirkhooper.com!
---
I want to hear from you! Please tell me what you think of these stories in the comments section below. And share with your friends!