What I'm Looking For
I'm currently looking for new models for fetish, glamour, steampunk, fitness, cosplay photography or other various projects.
I'm interested in attractive women with a unique personal style and tend to look for what I call "models with an attitude," but all will be considered. Models who are willing to pose fully nude, or are comfortable with fetish themes, are strongly encouraged to apply. Nudity, and fetish-friendly models are not mandatory, but you should be exceptional in other ways to stand out. Goth, rockabilly, tattooed, or very fit potential models would work well in my projects.
I am always looking to add diversity to my portfolio. Potential models who are African American, Hispanic or Asian are especially awesome.
I am not looking for models who are under the age of 18, divas, unprofessional or unreliable. That doesn't mean I won't work with amateurs, in fact many of the best models shot with me first, and I'll teach you how to become amazing and confident in front of the camera in no time.
I am also looking for male models at this time. You should either have an edgy look, or you should be in exceptional shape, both would be preferred. Again, I'm particularly interested in male models willing to pose nude and perform as a submissive with some of the lovely ladies I shoot regularly.
What You Will Receive
Model applications are for the purpose of doing creative work that benefits both of us, and might end up online, in print, or in a gallery. Many people who apply have specific requirements for photos, or don't want their photos to be displayed publicly, or not the type of model that I describe above, should probably be booking me for portrait work instead of applying to be a model.
If I choose to work with you, I will ask for you to sign a Model Release so that I can use the shots on this website, for art projects, prints, publications or my portfolio.
I do TFP (Time For Prints) or more specifically Time For Files. You will receive the best shots which have been edited, cropped and digitally re-touched personally and uploaded to a server so you can download them at your convenience.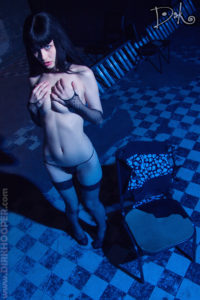 I will post the very best shots on my site with any additional information that a model would like to run (email address, website, background info, etc.) and will promote you across my considerable social media presence (my main Twitter account has over 90,000 followers).
I currently get about one million hits on this site a month, and over 200,000 people elsewhere that I have direct access to, and it's growing daily, so this is a unique promotional opportunity for models.
With the right model and the right theme I can get us both published in a number of magazines or maybe book projects. I own several sites of my own that will bring you attention. Some of my work has been accepted in the permanent collection of the Kinsey Institute, which will be protected and studied forever.
I am also exceptionally connected to the world of alternative modeling and do a lot of interviews and marketing. I am a big proponent of the "everyone wins" philosophy, and I'll do my best to promote you!
Finally, models that I work with on creative projects are the same models I call when I have a paying gig.
Please give me a reasonable amount of time to get in touch with you. I get over one hundred model applications a year from all around the world. Even if I don't get in touch with you immediately, I always keep your applications on file.
Feel free to fill out a new application if you haven't heard from me in a while, or poke me through email. Sometimes I make mistakes, or miss something, or maybe your look or experience has changed.
Good luck to everyone! Even if we're not a fit, I deeply appreciate you taking the time to fill out an application.
If we are a fit, we're going to create some great art together!