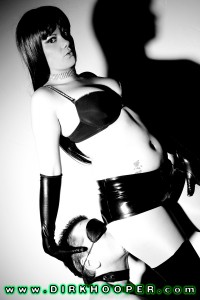 If you are a submissive, a BDSM couple or a member of a fetish or BDSM group, I am looking to take photos of those who are in the scene. I will do both portrait work and scene shots, depending on what we decide.
An attractive female submissive is what I'm looking for most right now. The more willing you are to participate in actual BDSM activities, the more I want to talk with you. Actual participation is not required, but if you are willing, it will definitely get my attention.
I'm also looking for fetish couples that would like to have actual scenes captured on camera. This is for an ongoing art project and may become a gallery show, a book, or maybe more. You will receive some of the best photos that you can imagine FOR FREE.
For more information in general, please visit my Model Search Page.
[info_box]Fill Out Dirk Hooper's Online Model Application By Clicking Here.
The link above will take you to a page where you can answer some questions and upload photos.  Please read this page before submitting your application. Thanks for your interest![/info_box]