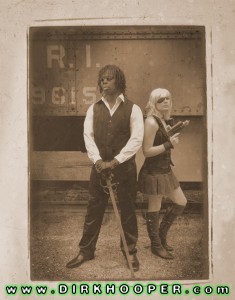 I have an ongoing Steampunk Photography project that will culminate in a series of gallery showings and perhaps other items like books, magazines or posters.  The style of this project is heavily influenced by late 1800's photography, with modern Steampunk subjects and props.
What I'm looking for are people who have created their own Steampunk outfits, accessories and personas.  Unlike a lot of my other work, this project is open to almost anyone who has a great Steampunk outfit.  Since many of these photos are posed like a family portrait, I encourage families to participate, including pets!  I want an extremely wide variety of subjects to inhabit my Steampunk society, so if you have the time and the outfit, you have a good shot at attracting my attention.
In most cases, once the models are dressed and we have arrived on location, actual shooting only takes about fifteen minutes.  Unless I am travelling out of state (sign up for my email list to keep up with my travel) then most photography will occur in Oklahoma City, Oklahoma or possibly the surrounding region.
This is a great opportunity to both participate in a massive fun fine-art project, and to get a valuable professional fine-art print, for free.  You will be sent an 8×10 metallic print of the final photo once it has been processed.  You will also be immortalized in any gallery showings, collections or media that I display the Steampunk project.
Most of the time I would ask a prospective model to fill out one of my model applications, but due to the unique nature of this project it would be better to just have you contact me directly.  If you want to be part of the Steampunk project, contact me now at: dirk@dirkhooper.com