Why Professional Dominatrix Need Professional Photography
by Dirk Hooper

If you're a professional dominatrix and you don't have professional photography, then you are losing money.
In many cases, you have only seconds to make a first impression with a potential client. If you work in a crowded market then those precious seconds may be split among dozens of other professional dominatrix and that potential client may be lost forever.
Professional photography instantly separates you from the crowd and tells a client that you are serious.
Right now, there is a proliferation of young and inexperienced dommes who see the potential to get free shoes and have their bills paid by gullible submissives. If you are a serious professional, then you need to recognize that those amateur mistresses are a threat to your business.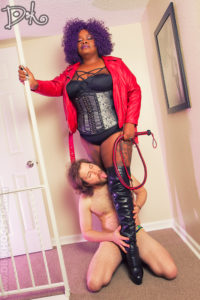 There are plenty of ways for you to distinguish yourself from wannabes, but nothing creates a stunning solid first impression like professional photography.
A lot of the photography of professional dominatrix is webcam photos, cell phone photos, pictures by friends or boyfriends with point-and-shoot cameras and student work. These photos are poor quality, hideously lighted and have terrible composition, but most importantly, they make you look bad.
Sure, webcam and amateur photos are cheap, but you get what you pay for.
Even a professional photographer may not understand the psychology behind female domination or understand how to create photos that appeal to the submissive psyche, but at least they can offer you photos that bring out your best features and give you photography that instantly looks superior to your competition.
A one-hour session with a professional dominatrix can be from $100 to $500 (or more). In general, the hourly rate for a professional photographer runs about the same (again, depending on the experience and prestige of the photographer).
That means the cost of getting solid photography for your business will be comparable to one or two visits from your best client, and the investment in that photography will pay off immediately and for years to come.
If you are serious about your professional dominatrix business then you must take an unbiased assessment of how you present yourself to the public.
Your unique look and style is the most important first asset you have for marketing to potential clients. If you don't have professional photography, you are not living up to your potential in your dominatrix business. A professional photographer can take your business to another level. Don't let your competitors get that advantage over you.
---
Dirk Hooper specializes in Dominatrix Photography. He's spent the last twenty years taking photos of professional dominatrix that have been published in fetish magazines, art books, and highly successful ads. If you want the best, look no further than Dirk Hooper. Visit the Dirk Hooper Professional Dominatrix Photography Page or make your reservation now on Hooper's Book a Shoot Page.