FETISHWEEK covers the best BDSM News and most interesting fetish links of the last week.  I am actively accepting news, press releases, personality profiles, and review items for both FETISHWEEK and The Fetish Show.  I am particularly interested in topics related to BDSM/kink/fetish, but also alternative art/photography/modeling, sex, burlesque, fashion, relationships, events and more.  I can get your story out to a much wider audience in a way that is positive and respectful.  Contact me now:   dirk@dirkhooper.com
Fetish Models, Your Day Job Is At Risk
Your day job is at risk if you are a fetish or nude model in your spare time.  FOX 43 recently ran a story about fetish model Sarah Hunter who was fired from two jobs in two months.  Hunter works in Pennsylvania, where it's legal to fire an employee for just about any reason.  She's not alone though.  Recently there have been a number of models who have lost their day job because they have peeled-off during off-hours, and it's not just women who are getting the axe.
Even successful fetish models will seek day jobs for the security and the benefits.  Only a handful of fetish models make enough money and consistently get enough gigs to live solely on modeling.  Obviously some models also diversify into adult entertainment or perform peripheral activities like professional domination, to pay the bills.
Given the proliferation of sexting, consensual private videos, social sharing and hidden cameras, it's hard to believe that anyone is completely free of something that could get them fired.  That means that even if you're not a professional model, your job could be at risk if those sexy photos you sent to your lover end up in the wrong hands.
Unfortunately, the law is largely on the side of most employers.  You can always hire a lawyer and fight but in most cases it won't be worth the time or money.
My advice, at the bare minimum (pun intended), should be to adopt a model persona and scrupulously separate that persona from your real online profiles.  There are no guarantees of safety though and the internet is much smaller than you imagine.
Unless there is some legislation, or some sort of serious advocacy then this threat will continue to haunt both fetish models and anyone else that has potentially embarrassing material out there.
What do you think?  Is there some recourse or resource that can help models out in this situation?  Do you have a personal story to share?  Please contact me directly at dirk@dirkhooper.com or leave me a comment below.
Dream hard,
Dirk Hooper
Tuesday, October 22, 2013
Read more: http://newswire.xbiz.com/view.php?id=169451
http://www.modelmayhem.com/124480
http://www.foxnews.com/entertainment/2013/10/16/high-school-teacher-fired-for-playboy-past/
Dirk Hooper Photography and The Fetish Show Updates
I've posted a lot of new photos since the last issue of FETISHWEEK!
I'm going to have some big announcements soon, so please visit over the next few weeks.
Respect the Ass: An Interview with Porn Star MaryJean
Pardon me, but I have to contend with a bit of an ass fetish, so I was instantly attracted to this interview with MaryJean.  I think you can see why by the photo below.  You might as well follow her on Twitter!
Read more: http://kenandariel.com/respect-ass-interview-porn-star-maryjean/
Latex Dress – Westward Bound – Collection 2013 – Cirque Bourgeois – Runway Fashion Show in Montreal
Enjoy the runway showcase of new designs from latex powerhouse Westward Bound in the video below.
Sexual Deviancy 101 – HuffPost Live
I recently bought a Roku device and found Huffpost Live while looking for a streaming news alternative.  If you're not familiar with Huffpost Live they cover all kinds of interesting subjects via interviews and internet sources.  Instead of the usual talking head political stuff you get on FOX News, MSNBC, CNN, etc. Huffpost Live gives you something more akin to a video version of NPR radio.
So, with that lengthy build-up I'd like to share with you a segment that deals with fetishes in a way that is (mostly) respectful and highly informative.  The guest for this segment is Jesse Bering who has written a book titled Perv: The Sexual Deviant in All of Us
.  They also welcome Susan Wright from the National Coalition of Sexual Freedom and someone who says that they have a spanking fetish.
I'm excited to see a serious segment of adult conversation on the topic of fetish and there's a lot of good information and entertainment in the link below.
Read more: http://live.huffingtonpost.com/r/segment/sexual-deviancy-perv-paraphilia-jesse-bering-fetish-sex-education/5252d635fe344468210002f7
Study: 1 in 10 Americans Use Smartphones During Sex
Uhmmm… if you have time to use your smartphone during sex, you're not doing it right.
Read more: http://newswire.xbiz.com/view.php?id=169637
Miss Fetish Europe- Saturday 9th November 2013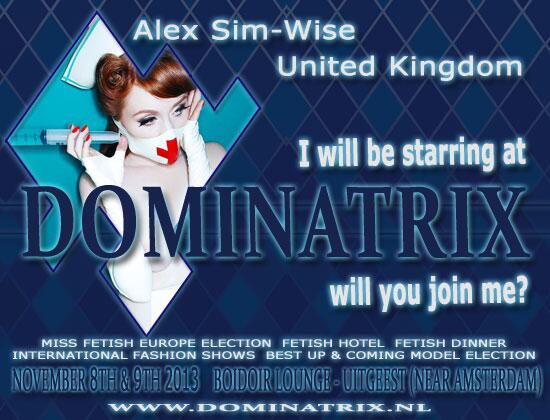 Skin Two Magazine is always on top of the best fetish events around the world and their recent post about the upcoming Miss Fetish Europe is a good example.  Set near Amsterdam (of course) Miss Fetish Europe looks like the fetish event of the year!
The contestants are a Who's Who list of the top fetish models in the world today and the list of judges are an amazing collection of the fetish world elite.  I'd list all of these great people, but you should just go check it out.
I can't tell you how much I'd love to go to this event (or be a judge… Holy Cats)!  If you have a chance, you should go and be sure to tell me all about it.  Take photos!
Read more: http://www.skintwo.co.uk/miss-fetish-europe-saturday-9th-november-2013/
Transsexual Fetish Website Gets 3,000 Hits at UK Parliament
It should come as no surprise that those who are the quickest to tell you what to do, are also the biggest hypocrites when it comes to porn.  I bet the NSA could confirm the same sort of figures for their American political counterparts.
Read more: http://m.ibtimes.co.in/fetish-website-uk-parliament-house-commons-lords-507990.html
Bondage Britain: Most couples get kinky in the bedroom
Wow!  We are definitely in the post "50 Shades" era now.  The UK Daily Star reports that nearly two thirds of couples in Britain have at least tried handcuffs, blindfolds or whips to spice up their sex lives.
That's easily the highest figure I've ever seen reported for kinky activities.  It also has the distinction of making people who have tried BDSM the majority, which I'm sure will upset Pat Robertson.
Read more: http://www.dailystar.co.uk/love-sex/345052/Bondage-Britain-Most-couples-get-kinky-in-the-bedroom